Steven Moffat is a Scottish television writer and producer. Moffat's first television work was the teen drama series Press Gang. His first sitcom, Joking Apart, was inspired by the breakdown of his first marriage; conversely, his later sitcom Coupling was based upon the development of his relationship with television producer Sue Vertue. In between the two relationship-centred shows, he wrote Chalk, a sitcom set in a comprehensive school inspired by his own experience as an English teacher.
He is also a writer for the show, having written for all its episodes.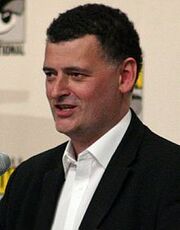 Ad blocker interference detected!
Wikia is a free-to-use site that makes money from advertising. We have a modified experience for viewers using ad blockers

Wikia is not accessible if you've made further modifications. Remove the custom ad blocker rule(s) and the page will load as expected.