Size Matters is the second episode of the first season of Coupling. It aired on the 19 of May, 2000.
After an out of control pause during a phone call, Susan invites Steve to dinner, offering to cook. While discussing foreplay, Jeff warns Steve of the perils of falling into the Sock Gap and also to look out for Susan's remote controls. Sally tries to overcome her aversion to Patrick's political views when informed of his main attraction and Jeff freaks out when Sally, Steve and Jane give him an unusual task.
Susan and Steve prepare to go on their first date (or at least, their first date without their friends gatecrashing.) Susan suggests that she'll cook, sparking debate as to whether that means she's inviting Steve to have sex too.
Susan tells Sally - and Steve - that Patrick is particularly well-endowed.
This leaves Sally with a tricky dilemma: she's always sworn never to have sex with a Tory, but Patrick is a very big boy... Meanwhile, Steve is increasingly intimidated by Patrick's huge reputation, until Susan finally puts him at ease.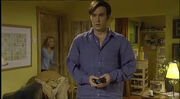 Embarrassing Moments
Edit
Steve phones Susan for the first time, but can't think of anything to say. The pause is so long it takes on a horrible life of its own - "like the Blob", in Jeff's words.
Main cast
Edit
Supporting and guest cast
Edit
Mariella Frostrup as Herself
William Scott-Masson as Howard
Background information
Edit
"Size Matters" would be redone as the second episode of the US version, which was also titled "Size Matters".
The number of drinks consumed by the gang at the bar gradually increases from scene to scene.
This is the first mention of Steve's fascination with Mariella Frostrup. It is also the first mention of Susan's crush on Angus Deayton.