Season 4
of
Coupling
originally aired on BBC2 from the 10th of May to the 14th of June, 2004. It comprised of six episodes.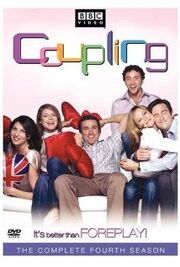 Main characters
Edit
The fourth season was first broadcast on BBC3 in May and June 2004, although the six episodes were repeated on BBC2 a few months later.
Ad blocker interference detected!
Wikia is a free-to-use site that makes money from advertising. We have a modified experience for viewers using ad blockers

Wikia is not accessible if you've made further modifications. Remove the custom ad blocker rule(s) and the page will load as expected.