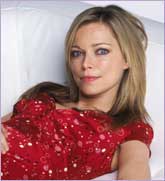 Sarah Alexander is a British actress who portrayed the character Susan Walker in Coupling. She is also known for her roles in British comedy series' such as Armstrong and Miller, Smack the Pony, The Worst Week of My Life, and Green Wing.
Ad blocker interference detected!
Wikia is a free-to-use site that makes money from advertising. We have a modified experience for viewers using ad blockers

Wikia is not accessible if you've made further modifications. Remove the custom ad blocker rule(s) and the page will load as expected.