Lou Gish
was an English stage, film and television actress. She played the role of
Julia Davis
in
Season 2
and
3
.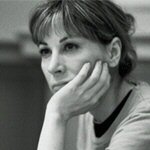 She was born as Louise Mikel Henrietta Marie Curram in 1967, the elder daughter of the actor Roland Curram and the actress Sheila Gish. Her partner at her death was Nicholas Rowe. She acted with her sister Kay Curram in King Lear at the Chichester Festival Theatre in 2005. She was raised in London and originally saw herself as an artist rather than an actress. She trained in Camberwell and went on to gain a BA Honours degree at the Camberwell College of Arts. However, a role in a fringe play in Paddington saw her land an agent, and this convinced her to follow in the thespian footsteps of her family. She was the step cousin of Ewan McGregor.
She died of cancer in 2006.
Ad blocker interference detected!
Wikia is a free-to-use site that makes money from advertising. We have a modified experience for viewers using ad blockers

Wikia is not accessible if you've made further modifications. Remove the custom ad blocker rule(s) and the page will load as expected.